Member
Join Date: Oct 2009
Location: Essex
Posts: 46
Boot floor is hinged so that the spare wheel can still be removed etc. The amp rack (false floor) has been covered in some lovely alcantara. In the new year i'll add a new box which will be the full width of the boot and covered in alcantara to match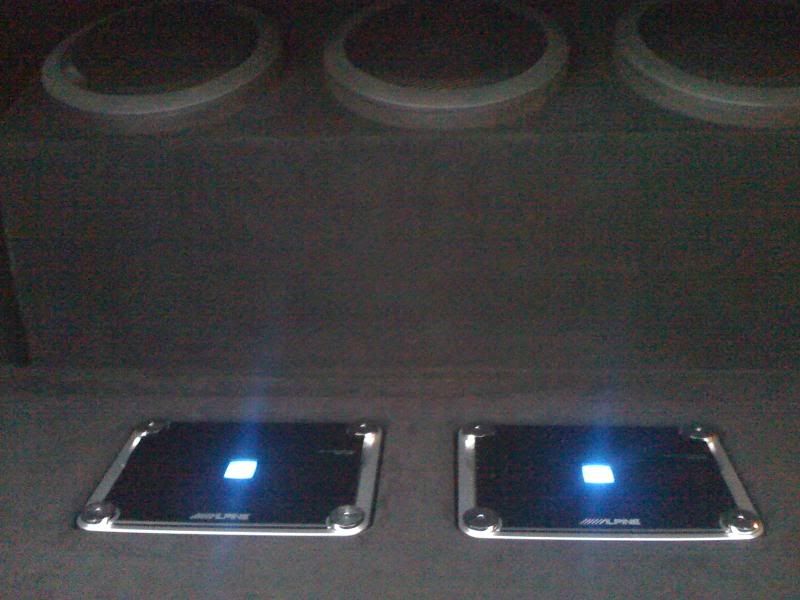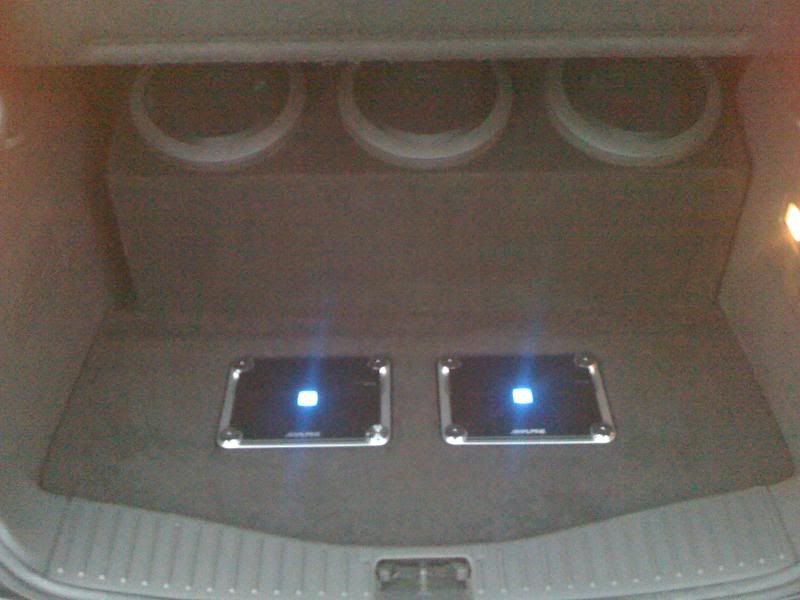 Senior Member
Join Date: Mar 2008
Location: Four Oaks
Posts: 2,364
Looks great but I think it might be a tad too noisy for me.
Cheers
MM




---
MetalMicky ( Mike)

2004 2.0 TDCI Zetec
Member
Join Date: Oct 2009
Location: Essex
Posts: 46
The sub amp is 1000 watts rms so each speaker sees 333.33 watts RMS
The other amp doing the door speakers is 4x150 watts RMS
Senior Member
Join Date: Jun 2008
Location: Birmingham
Posts: 1,124
Very nice have you upgraded the head unit as well?

Can't quite hear it here can you turn it up a bit please
---
Richard
54 Plate 1.6 TDCI LX ~aspiring to be something else
Member
Join Date: Oct 2009
Location: Essex
Posts: 46
Heaadunit is a double din Alpine W202Ri with the seperate DVD navi and BT 300 Bluetooth kit.
Is it time for Ford Fair yet?
Senior Member
Join Date: Mar 2008
Location: Four Oaks
Posts: 2,364
Pardon????
Teribble trouble with Tinitus so I don`t know if it`s your system or my ears.
.
MM
---
MetalMicky ( Mike)

2004 2.0 TDCI Zetec
Senior Member
Join Date: Nov 2009
Location: Norway
Posts: 415
Tinitus is no joke
I have in my erlyer years playd with to mant inches speakers and to many RMS.
The last 7 years i have seriose sleeping trouble have often dr appointsments and its no fun.
However i still love a good sound system in the car but now its clarity and pure sound instead of BOOOOMMMMMM shake the car
And a nice build still make me wanne start all over again
Aming for the Pioneer F10BT in my C-Max and new elements in the dors and tweeters but pure sound and not insane boommmm
Edited by: JonV
Senior Member
Join Date: Mar 2008
Location: Four Oaks
Posts: 2,364
I`m not making fun,I really do have Tinitus (very Badly).I have to take Betahistine tabs 3 time a day + I am seeing 2 consultants about trying to train my brain ti tune the noise out.None of this has worked so far so I now have digital hearing aids,but they are set wrong & I can`t use them so I`m waiting to see the consultant to have them reset.I have been suffering with this for over 2 years & it`s only getting worse.
MM




---
MetalMicky ( Mike)

2004 2.0 TDCI Zetec