Intermittent Engine Light (EML)
---
I had my car parked entire time during the last winter.
Therefore, I had to replace the battery before the Service & MOT.
A few days after the MOT & Service, I noted that the Engine Light comes and goes INTERMITTENTLY.
Halfords Autocentre staff ran OBD-II scan 2 times, but unfortunately, both time the Engine Light didn't appear.
(Usually, any garage would charge for just running OBD-II scan diagnosis; but they didn't charge me both times as no fault codes were displayed in the scanners.)
This was not consistent; therefore, it was very difficult to be diagnosed. A few months later, the Engine Light started to come again but this time it decided to stay (thankfully). The OBD-II Fault Code was P2008.
But if your car starts to behave like that indicating an Engine Fault in an intermittent manner, please try to check the Resistance Levels of the Intake Manifold Runner Control (Vaccum Solenoid) and verify that they consist of the correct level of resistance (i.e. 30~40 Ohms / mostly it would be something like 33 Ohms).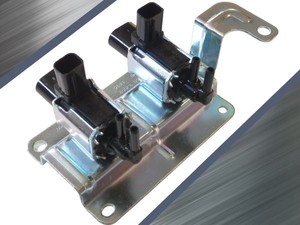 You may need a few tools such as
A Multimeter (to measure resistance)
T-20 socket with a screwdriver or a wrench (to remove the Vaccum Solenoid from the engine bay)
(There are great toolsets sold on Amazon or eBay that has T-20 Sockets that can be attached to a wrench having a flexible rod in between them. This makes it very easier to reach the 4 bolts and remove/fix the vacuum solenoid easily).
If the resistance levels are improper, you can think of installing a new Vaccum Solenoid. You can pick one from a scrapyard or buy one via eBay for a very low price.
If the resistance levels are fine, you can consider cleaning the intake manifold with something like Seafoam. This has worked for many people, but frankly, I haven't tried this.
I will post a few posts regarding the fixes and possibilities. But I think it would be good to break down instructions into steps based on the topic of each post. Then someone who exactly experiences the "Intermittent Engine Light" issue will look into this and he/she will only find the most relevant information without any information overload.
Thank you.
---
Ford C-Max Ghia 1.8L - 2004 : Manual Transmission