Junior Member
Join Date: Apr 2010
Location: Glasgow
Posts: 16
I've been driving and trying to do the odd job to maintain the various cars I've owned,for over forty years. Easy things like bulbs, oil changes, replacing the air filter, servicing the brakes, more out of necessity (cost) than ability. I even managed to strip an engine and gearbox on a 2 litre Triumph Vitesse and get it going again when cars were simple to work on. I have enjoyed it on occasions, but not when it's dark, pi**ing down and essential that the car is required at that moment. <?: prefix = o ns = "urn:schemas-microsoft-com
ffice
ffice" />
Last night I was trying to be a good samaratin and used my air pump to inflate my neighbour's tyres to the required pressure. I didn't think I would need to run the engine for this task as the automatic has a beefy battery, so I just used the cigarette lighter and battery to perform this gallant duty.
Went out to do some errands this afternoon and the car wouldn't even turn over. All I got was a clicking from a relay somewhere in the deepest and darkest left hand side of the footwell or engine bay somewhere. All the required lights came on, the radio as well, just not enough juice to turn her over.
Of course my son and daughter deny having my jump leads so no luck there then. No bother I'll just lift out the battery and put it on charge. Well it went from bad to worse, it started falling from the heavens didn't it, that's all I needed, oh well, let's persevere and get the battery out. Well, look at that, the battery is well hidden away back there, that's a great place to put it. There's another thing, how do you get the blo**dy thing out with that box it's in and the air filter? Surely I don't have to remove all that?
I ended up refering to the "Owner's Manual", nothing at all. That's good, let's try the forum. I did find a post which said I did have to remove all those things, but not how!!!! By this time I was ready to place the car on E-bay.
I went tomy new "Haynes Manual" and found out how to remove the battery, easy peasy..... It's not. What were Ford playing at, placing the battery in such a position. Their designers should be, in the words of the Great God Clarkson, "SHOT".......... Whatever possessed them to put a battery there, where it will cost you at least one or two hours labour at a garagejust to "CHANGE A BATTERY" for GOD'S SAKE?
Luckily another one of my neighbours hadrecovered after laughing so much watching me in the pouring rain, hetook pity on me and produced a set of jump leads, (possibly mine, but I couldn't prove it).I re-connected the battery, replaced the holding bar, replaced the air filter topand gave it a turn, thankfully it started. I gave the car a wee run along the dual carriageway towards Dumbarton and everything seems o.k. The EPB warning went out after a few minutes and all I have to do now is re-code the radio, I hope that's easy enough.
Well. I'm glad to have got that off my chest or I was ready to hit someone, what a stupid thing to do. Ford got that one wrong, very wrong, very very wrong. I wonder if my battery is going to last the winter. If I have to change the battery it might be touch and go if I replace the whole car with it.
Rant over.
John G
---
C-Max 2006, 2.0 Ltr, Petrol Ghia
Senior Member
Join Date: Dec 2010
Location: Purton Wilts
Posts: 123
Hi John,
What a great story! Not too good for you, though.
I can also remember the days when cars where much simpler and easy to work on.
One particular day, just before Christmas, when I was about to set off on a few hundred miles journey to join family for Christmas my car showed a distinct lack of power. I removed the head and found one of the exhaust valves burnt out across two sides (it looked like a racetrack shape, not a circle) the others weren't much better. I was able to sit on the wing with my feet in the engine compartment, a tarpaulin over the bonnet to keep the snow off, and grind in the new valves – having de-coked the engine, of course. Those were the days!
You would think that carmakers would have learnt how to make cars by now; at least to make the regular jobs such as getting at the battery simple. Are Ford fairly new at this car making thingy?
Thanks for making me smile.
[img]smileys/smiley1.gif[/img]





---
2009(10reg)1.8TDCi115Titanium
Junior Member
Join Date: Apr 2010
Location: Glasgow
Posts: 16
Thanks for the sympathy Rollo, my story is far superceded by yours, although it did remind me of a Yamaha two stroke motorcycle I once owned. I couldn't afford to keep it properly tuned so it constantly burned a hole in the top of the right hand piston. It was cheaper, and easier for me to carry a spare piston and I became so adept, I could change it at the roadside in under half an hour. "Try and tell that to the young folk today".

John G
---
C-Max 2006, 2.0 Ltr, Petrol Ghia
I really feel sorry for today's garage mechanics! I have been a Marine Engineer for the best part of 40 years and it used to be said that the best qualities a marine engineer could possess, were arms about 4 feet long, articulated in at least 4 places, coupled to a body, preferably under 3 foot tall. Hands and fingers would be slim and dexterous and have adhesive pads, with an eye in the end of each finger, and the person would be blessed with the strength of three elephants! Unfortunately, such a being doesn't exist, at least not more than a mile or so from Chernobyl!
Used to be, not so long ago even, that cars were user friendly and were easily fixed by their owners. The best car I have ever had, believe it or not, was a Montego 2.0 Turbo Diesel. You could do ANY job on that car with a half inch socket set and a couple of screwdrivers. It was nice to drive, comfortable, VERY Roomy with a VAST boot and handled fairly well. It was good when the roads were dodgy in the winter, and was the most economical car I've EVER had. regularly returning over 50 MPG without even trying. All without the help of electronics or anything. Only problem was utterly appalling build quality! Other than that. BRILLIANT! What has happened between 1992 and now? I look under the bonnet of my C-Max (lovely car, don't get me wrong!) shudder and close it again!!
Oh to return to cars like my Capri, where you could almost get in beside the engine!!!!

---
2008 2.0 TDCi Zetec
my feelings on dealings with a capri is that they got the letters of the name in the wrong order




---
Richard
54 Plate 1.6 TDCI LX ~aspiring to be something else
I'm very much hands on when doing work on my own cars but i'm convinced car manufacturers tell their design engineers to make DIY servicing & repairs as difficult as possible and make as many things as possible dealer only jobs, like John G states what an awful design to put a battery in that position, also on my 2.0ltr TDCI if i needed to top my brake fluid unless i use a syringe with a piece of tubing I need to remove the the wipr arms and scuttle how crazy is that!!!!
---
56reg Focus c-max 2.0 tdci ghia

Tango metallic sony 6 disc player front & rear parking sensors,privacy glass,climate control
Richard,the Capri was just a MK2 Cortina in drag. Just the job for the young blade about town!! They weren't marvellous, but then very few cars were back then. Affordable ones anyway! Point is, that in common with everything else of that era, they were easy to fix if (WHEN!) they went wrong. I wouldn't know where to start on the C-Max unless it was something easy to get at like the brakes!
Anthony, I agree with what you say about topping up the brake fluid. It's ridiculous that Ford haven't provided a remote reservoir like Citroen did with the Picasso. That was a piece of cake in comparison. Mind you, apart from changing the fluid at two years, I never had to top it up once in the three years I had the car.

---
2008 2.0 TDCi Zetec
Junior Member
Join Date: Jun 2011
Location: lincolnshire
Posts: 16
I understand what you are all saying. Even changing the filter on my cmax was more involved than I thought. Anyway here are some pics of my other car that may be a little too modern for you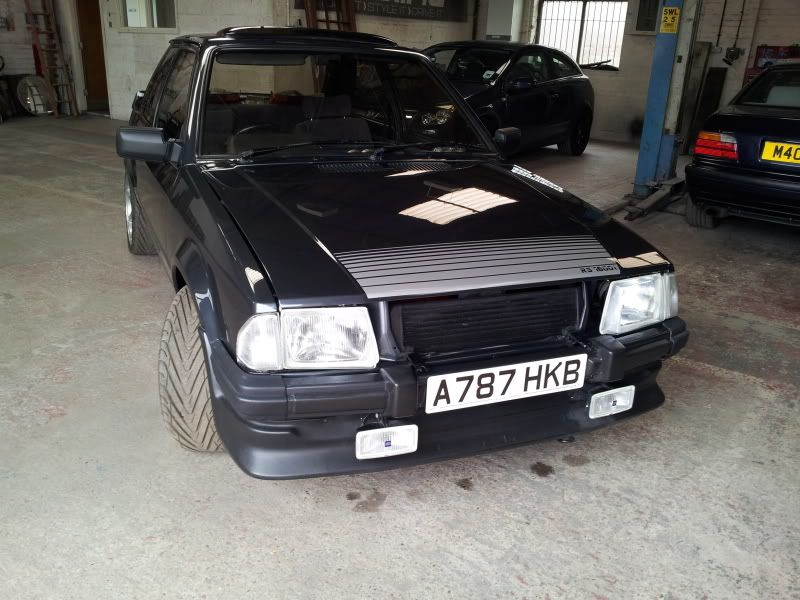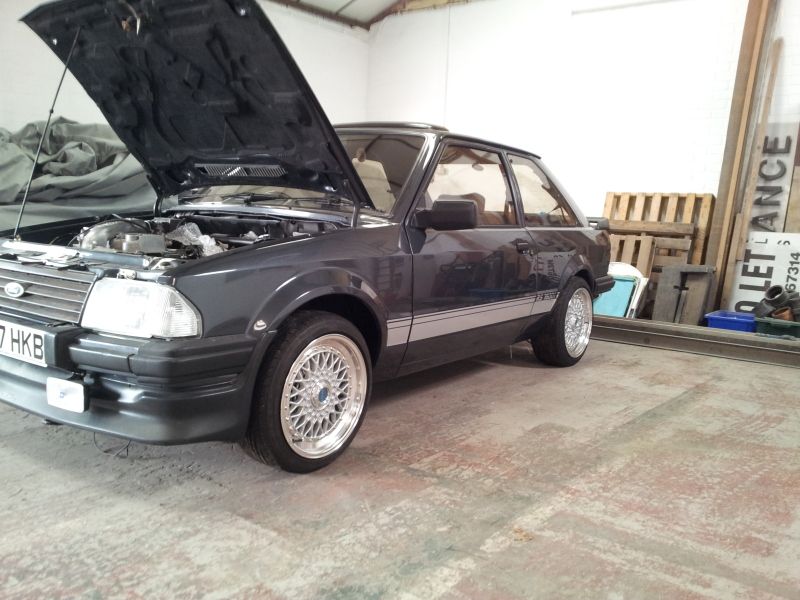 Edited by: steve escos
---
2006 2.0tdci ghia,
Junior Member
Join Date: Nov 2011
Location: Essex
Posts: 8
It take about 15 mins to change the battery - Ford make the cars easy to assemble - but they fit the battery and Air box without the headlamp in place, its two screws and a connector to remove the headlamp. Just put it somewhere safe while changing the batter they are dammed expensive if you tread on one!
---
2011 C-Max Grand
1.6 diesel Manual
Similar Threads
Thread
Thread Starter
Forum
Replies
Last Post
Key Fob Battery

Mark

Main Message Centre

1

09-16-2009

01:21 AM